Blackbirds of Broadway Tour 1999
European Tour Journal
Quick note to Students: This section contains links to many of the cities that we visited. Where possible, I have tried to steer the link to an English-language version of the website. If you see a small British flag on any German-language page, try clicking on it. This will hopefully get you to an English-language area. Also helpful when surfing over there is a German-English dictionary. See if your library has one. Most cities can be reached manually by entering 'www' plus the name of the city, plus the suffix (.de for Germany, .ch for Switzerland, .at for Austria, etc.) You can also bring up Yahoo in this way. Hope you enjoy...
November 1999 - As the Blackbirds company comes in to Dayton, reality begins setting in. Most of us have a lot of luggage, and we're going to have to reduce that to 70 lbs each for the flight to Europe. IPC will compensate us for up to $100 each in UPS shipping, but we have to send the stuff back by November 18th. The race is on to get rid of excess stuff, wash clothes, pay December bills and get ready for our leap in the great unknown. Fortunately for me, my parents are visiting for a few days and they take my excess baggage home in the pickup truck.
Here are a few general snapshots from Europe.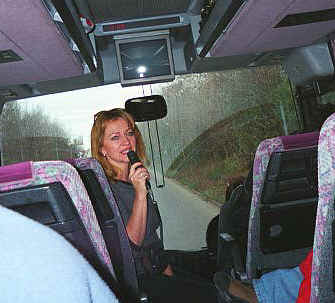 "Here are zee morning informations--yes?": Company manager Trude telling us where we're going today.
The Dream Team: Our Austrian management team in action. Bus driver Martin, wardrobe tech Conny, and Company Manager Trude.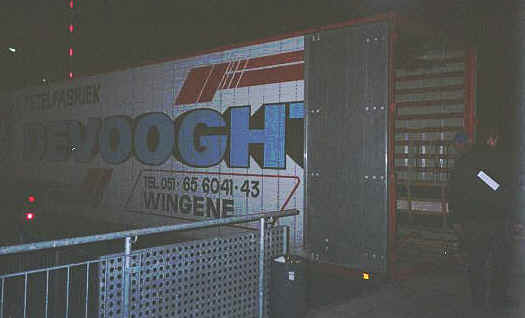 Daniel's truck being loaded for an all-night trip from Munich to Zurich.
Europe Itinerary Europe: Week 1 Europe: Week 2 Europe: Week 3 Europe: Week 4/Home Stretch
Back to Living on the Road Back to Blackbirds Tour Home Email Me