Allen Cole's Website
Allen Family Geneaolgy
AMMON, VA: THE WORLD OF THE ALLENS
The Allens and Turners lived along Wills Road (SR610) southward from where it intersects Namozone Road (SR708) between the towns of Mannboro and Namozine in Amelia County. This forms a little triangle with Old Richmond Road (SR612) which straddles the Amelia/Nottoway County line, and includes easy access via Wells Road (SR625) into Dinwiddie County. Much of the land along Wills Road was granted to the Bevill family and to William Coleman by the royal governor in the 1730's. The earliest Allen that I have found there is James Allen, who first purchased land in 1804, and who married Mary A. F. Bevill in 1826. I believe that he was the father of Richard A. Allen. James Allen died in 1855, but his land along Wintercomack Creek remained a separate entity on the tax books up through 1900.
The focal point of their little slice of the world appears to have been Ammon, VA which is now practically a ghost town. With the exception of Virgie and Dick, all of Richard Allen's sons would live their lives in this area. Fletcher Allen (Richard's eldest son) leaves the most obvious traces today thanks to the naming of SR601 as Allen's Lane. His partially collapsed house sits in the woods at the end of this road today. It's off of Old Richmond Road just south of Mannboro. Robert Watkins "Watt" Allen's house still stands on the Nottoway County line and remains in the family, occupied by his grandson Larry Marshall. The Richard A. Allen homeplace is now the Dabney place at 2240 Wills Road.
You can visit antebellum Amelia County via transcriptions of the 1850 Amelia Census and the 1860 Amelia Census online.
ORIGIN OF THE ALLENS
All Allens in the English-speaking world are thought to come from Count Alan of Brittany, the French nobleman who helped the Normans in their 1066 invasion of England. The name Allen derives from the German tribe Allemanus ("all men") who sparred with the Romans in 5th century Gaul. This is also the root word for Allemagne, the French term for Germany. This led to given names of Alan, Allyn, etc. in early France. Count Alan brought it over to England, where it logically spread to Scotland. James Allen of Scotland came to Virginia in 1608 and is the patriarch of a line of Allens who spread through New Kent, Hanover, and eventually Prince Edward and Cumberland Counties. We know of no direct ties to them. Other Allens came over as Irish indentured servants in 1653. We know little of them and nothing of a connection. Most Irish Allens hail from Ulster, where they probably arrived as part of conquering British or Scottish troops. Other early Virginia Allens include Arthur Allen, who built Bacon's Castle [Surry Co.] in 1665.
The earliest Allen that I can currenty trace my family to was James Allen (1783-1855) of Ammon [Amelia Co.] VA. It is a very small place just southeast of Mannboro. He first appears on Amelia County records with his first purchase of land in 1804. His family spread far and wide. He appears to have had five children with his first wife Elizabeth between 1808 and 1820, and then three children from 1827 to 1830 with his second wife Mary Ann F. Bevill. The first set of children were all dead by 1895, and second set of children died between 1906 and 1914. The eldest of this second set of children was my great-great grandfather Richard Alfred Allen (Sept. 1827-Apr. 1911). We know very little from his youth, except that he first appeared on county tax rolls around 1854. He did not appear on the 1850 census, but we know that he had his first child with wife Martha A. E. Turner on Christmas Eve of 1852. Their second child, born in July 1855 was my great grandfather Virginius Leander Allen (1855-1937).
We don't know for sure where the Allens came from. We do know that twins James and John Allen were born to Richard Allen and wife Anne Clements on January 1, 1783 in Goochland County. They lived far west of Goochland Courthouse somewhere along Little Byrd Creek. We also know that a Richard Allen had land in Amelia County in the early 1800's which was near James Allen's land along what is now Mill Quarter Road. In 1812, he married Tabitha Southall (a James Allen neighbor) and in 1823 he died, naming sons James and John Allen in his will. It's an interesting coincidence that one of James Allen's sons Rev. James Madison Allen (1814-1854) served his entire career as Presbyterian Minister in Goochland County.
OUR ONLY PROVEN EARLIER LINK - WATKINS TURNER
Watkins Turner (father of my gg grandmother Martha A. E. Turner) made his first purchase of Amelia County land in 1833 from Matthew Allen (unknown if related to us). Although this was his first Amelia land purchase (the deed states that he was from Nottoway County), he had already been married for 3 years to the former Judith A. Mann of Amelia County, who was his second wife. Prior to marrying her in 1830, he already had two daughters. These were Mary Turner (b.1824 or earlier) and Martha A. E. Turner (b.1827 or 1828). As with Richard Allen, little is known of Turner's origins or the name of his first wife. We do know that he participated in several land purchases along with this neighbor Robert Cousins, Jr., (who is buried on Turner's former farm) and that he, Cousins, and others worked dilligently to start a Methodist Church in the Methodist Episcopal Church South conference for a number of years. This led to the founding of Poplar Hills Methodist Church around 1848. Richard Allen and many of his descendents are buried at the site of this church on Wills Road about a mile south of Namozine.
Recent research shows the these men were related via marriage to various daughters of Daniel Mann. Matthew Allen was married to Elizabeth C. Mann, and his sister Sarah Sally Allen was married to Robert Cousins. This would probably explain Watkins Turner's arrival in Amelia. Martha O. Mann married George Rowlett in 1814 and then William T. Green around 1848. She entrusted Watkins Turner both with her life interest in the Rowlett estate, with some transactions in the execution of her will when she died in 1852. We also know that she had a sister who was married to a Coleman.
In 1842, Turner's daughter Mary married John A. Coleman. The only child that I know of was Archer Watkins Coleman, born in 1843. Interestingly this son appears on the 1850 Census (age 7) living with Turner, and this was also true at age 17. At age 27, (1870 Census) he was shown as the head of the former Turner household with his wife Otelia J. W. Coleman, two children, and Bettie E. Turner (age 45) the third wife and widow of Watkins Turner. Why he didn't live with his parents is unknown. This entire household moved to the Bermuda Hundred area in the 1870's selling the land to other Colemans. This reinforces the possibility that Betty E. Turner may be the same person as Elizabeth Eppes Ivey. (The Eppes family had large landholdings around Bermuda Hundred and Hopewell). Martha A. E. Turner was at home in the 1850 Census, but her first child with Richard Allen was born near the end of 1852. No record of the marriage has been found. Watkins Turner's death in 1863 left her with a life interest in several parcels of land, and she herself died sometime between 1880 and 1887. Her share of the land was sold off around 1913-1916 by Richard Allen's heirs.
RICHARD ALLEN'S DESCENDENTS
Richard Allen had 8 sons, of whom five produced children. I am descended from his 2nd son, Virginius Leander Allen.
1. Henry Fletcher Allen - Lived and died in Amelia. Married Sardenia "Denia" Webster. Fletcher's son, Henry Floyd Allen, lived at the end of what is now SR601 "Allen's Lane" just south of Mannboro in Amelia County. He married his cousin, Martha A. Allen, daughter of his uncle Robert Watkins Allen. Floyd & Martha's granddaughter, Martha Allen "Marty" Anthony is also involved in genealogical research on the family.
2. Virginius Leander Allen (see below) Married to Martha Rice Robertson. 10 children, plus possibly two more who died. Their youngest daughter, Pearle, was my grandmother. Lived at and worked the "Torborne Tract" until leaving the area in 1911 for Dinwiddie County. Buried with his wife, and four of their children in Riverview Cemetery, Richmond, VA.
3. Walter Richelieu Allen - Married Cora Belle Coleman and had three children. There may have been a fourth child who died young. He was killed by lightning while firing tobacco possibly around 1892. Resting place unknown--possibly Turner Cemetery. His son Robert Monroe Allen eventually inherited the homeplace, which was lost in the depression.
4. James Everette Allen - Had also been a tenant of his father's and bought the Poplar Hill Tract of land from the heirs. He married Rosa Robertson, the sister of his brother Virgie's wife. Much of his land is now leased to the Ammon Hunt Club by his remaining grandchildren. Buried at Poplar Hill ME Church Cemetery. His son James Alfred "Fred" Allen lived on what appears to have been the "Tarborn Tract" after Virginius Allen's family moved to Dinwiddie. His son, Burton Allen of Blackstone, has helped in the research on this family.
5. Robert Watkins "Watt" Allen married into the Clay family, who were the original inhabitants of the Ammon area. His first wife, Delia Clay Allen, died young and he soon married the daughter of his neighbor Alexander Hawkes, who had been looking after him and the children following Delia's death. The Clay house was willed to Watt Allen by his father-in-law and he raised a family there with wife Elizabeth Mark "Mocksy" Hawkes Allen that remains there to this day in the person of his grandson Larry Watkins Marshall. Watt Allen is buried at the Clay-Allen house. Larry Marshall is also doing research on this family as well as the Clays and Marshalls.
6. Richard A. "Dick" Allen, Jr. moved to Washington, DC where he became a scientific assistant in the Anthropoligy section of the Museum of Natural History at the Smithsonian. He was married to Amelia schoolteacher Celestia "Miss Lessie" Davidson, but had no offspring. They are buried in Blandford Cemetery with the Davidson family.
7. George Turner Allen - Took over the main farm from his father and became head of the Allen household around 1910. Unmarried, he died in 1926. His heirs were the family of his brother Walter Richelieu Allen. Buried at Poplar Hill ME Church Cemetery.
8. Edward P. Allen - Youngest son. Was a member of his brother Watt's household and became the county's first rural mail carrier. He died unmarried in 1925. Eddie is buried at the Clay-Allen house.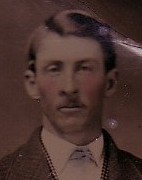 VIRGINIUS ALLEN 1855-1934
"Virgie" was a tenant on his father's land almost until age 60, growing tobacco and paying 1/4 the crop as rent. When his father died in 1911, the other heirs asked him to buy out the land that he was working, but Virgie wanted to be closer to the tobacco markets of Petersburg. So around 1911, he moved his family to a 90-acre tract on what is now Trinity Church Road in Dinwiddie County. Following the death of his wife, Martha Rice "Patty" Robertson Allen, Virgie sold the farm to his youngest son Aubrey who kept it until his own death in 1983.
Martha Rice Robertson was born in 1857 to James Craddock Robertson and Mary Eunice Downs Robertson. She lived near Crewe, VA at the time of her 1880 marriage. We believe that the land was on or near SR621 (Burkes Tavern Rd.) just west of Burkeville. Martha was widely known as "Pattie" and this includes most legal documents. She only appears as "Martha" on her death certificate and her gravestone. Her father Jim Robertson died in March 1880 just a month after her wedding. He was in bankruptcy at the time, and we are not sure of his dwelling or his burial place. The Robertsons trace themselves back to George Robertson I, an Anglican minister from Struan, Scotland.
Virginius and Martha had 10 children with the last being born in 1903. Pearle Lee Allen Cole, the second youngest child born in 1898 was my grandmother.
PEARLE LEE ALLEN COLE 1898-1997
The youngest daughter of Virginius & Martha Allen, Pearle was born in Amelia, only to be transplanted in Dinwiddie as a young teenager. As a little girl she was taught by her sister Eunice at the Namozine School in Amelia. As a teenager, she attended Midway School near Poole Siding in Dinwiddie County. Around 1918, she moved to Richmond to help her brother Lemuel and his wife Lillian with their new baby, and to pursue her education in business school. She married Harry Judson "Dick" Cole in 1921, and first son, Harry Judson Cole, Jr. was born in 1923. In 1925, they purchased their long-time residence at 515 Bancroft Avenue in Highland Park. Unfortunately, the stock market crash was coming and they moved to Newport News where Dick was an electician at the Newport News Shipbuilding & Drydock Co. While living in Newport News, their second son Gilford Allen Cole (my father) was born in 1930. The depression was a difficult time, but Dick worked 6 days a week and Pearle was a genius at stretching a dollar. They returned to the house on Bancroft Avenue in the early 1930's and attended Northside Baptist Church along with many of their neighbors. Pearle remained there following Dick's death in 1959 until moving in with her son Gilford in 1967(?). She remained with him until late 1996, when she moved into the Snyder Methodist Home. She died on August 6, 1997 only a week short of her 99th birthday. She is buried in Riverview Cemetery with her husband, parents, two sisters, and her doting older brother Lemuel.
GILFORD ALLEN COLE, SR 1930-2002
The youngest son of Pearle and Dick Cole was born in Newport News in 1930, but grew up in Richmond's Highland Park. He graduated from John Marshall High School in 1947 with a solid background in mechanical drawing already under his belt. His first job was with the Virginia Highway Department, during which time he took up photography which quickly became an extra part-time job for him. While photographing a wedding at Bethlehem Baptist Church, he struck up a conversation with teenage organist Barbara Evelyn Cramer who he married in September 1951 after about 2 years of courtship. They rented the upstairs flat from his parents on Bancroft Avenue. Around this time, he left the Highway Department to become a draftsman for the C&O Railroad. He would remain with them until his job moved to Huntington, WV in 1962. Many of his drawings survive, and some of his maps appear uncredited in various railroad books. In 1956, he built a house on a plot of land on the farm where Barbara grew up, and remained at this residence until his death in 2002. In 1967, he took in his mother who had been widowed since 1959 and she remained with him until the last year of her life. Always good with his hands, Gilford Cole had contracted the construction of his own house, and was constantly building things in his workshop. The house is filled with his handywork as were several camping trailers and his pickup truck. In 1991, he successfuly fought a hard-won battle with the rare and usually deadly Wegeners Granulomatosis, and would spend the rest of his life fighting melanoma. This did not stop him, however, from leading a very busy life working on projects, helping out at church, anchoring the bass section in the choir, working and travelling. After only six years of retirement, he died at home of melanoma in May 2002. He is buried in Mount Vernon Memorial Park, Glen Allen, VA.