Music Lessons by Allen Cole
Summer Chamber Music Groups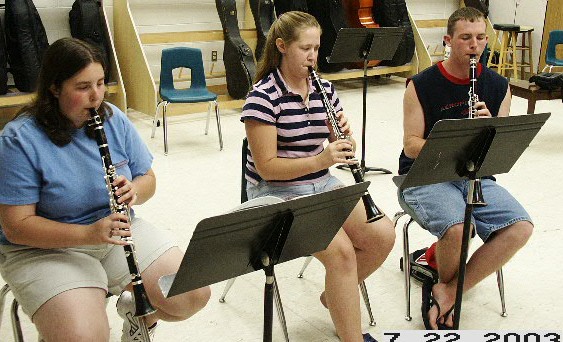 PURPOSE - To provide students with musically challenging and socially enjoyable activities that relate directly to making music a hobby. Playing in small groups makes each student a vital component--the only person on his or her part. This promotes greater awareness and responsibility.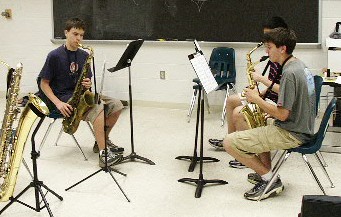 Small groups are also an excellent forum in which to pursue arranging and improvisation. This is pursued in the Jouneyman groups, which are designed to bring empowerment to their participants and inspiration to younger students who hear them play.
Chamber groups are also a good forum in which to play a second instrument. I allow saxophone players to join clarinet groups and clarinet players to join sax groups as space permits.
COMPOSITION OF GROUPS - 3 or 4 students who play like instruments. (certain groups may have mixed instruments) These are offered primarily to my own private students, although some outside students might be allowed in by audition.
TYPES/LEVELS OF CHAMBER GROUPS
Journeyman - These are the most advanced groups, and are designed to give my very best players a chance to work together in a high-level group. Students in these groups generally have 9 or more of the High School Scale Skills under their fingers and are at or near completion of their basic theory curriculum. These groups play advanced levels of chamber music, dabble in improvisation and 'jamming' techniques, and are encouraged to write simple arrangements for the group to play.

Lab Group - A group of players with Journeyman-level capabilities, but with mixed instrumentation. Usually formed to allow students to engage in the improvisation and arranging activities. The difference lies in the chamber music. Lab groups by definition must use music written for mixed instrumentation. This chamber music will not generally be on par with that available to a group of like instruments.
Advanced - These groups contain high school level players who are facile and confident, but who have not yet met the prerequisites for participating in a Journeyman group. They play advanced chamber music, and may be asked to perform for younger players.

Intermediate - These groups are intended for high school and middle school students who have some skills built up, but who are not yet as confident or independent as the advanced players.

Middle School - Usually students who have completed 6th or 7th grade. They play basic chamber music, and groups with mixed instruments may be formed if it helps in matching students of similar ability level. Music with flexible instrumentation is applied.

Beginners - Intended for beginning students who have not yet played in a group. These groups usually play from their band books, and mixed instruments are fine. Basic chamber music books like Trios for All or Quartets for All may also be used, depending on the group's ability level.
OTHER GROUPS
Small Jazz Band - I have arrangements for Trumpet, Trombone, Alto & Tenor saxes & rhythm section. I also have books for a dixieland band, which would consist of Trumpet, Clarinet, Tenor Sax, Trombone & rhythm section. We can arrange to have such a group, if members know of rhythm players (piano, guitar, bass, drums) who wish to participate.

"Hungry Five" Polka Band - I have arrangements this instrumentation of two clarinets, trumpet, trombone and tuba. Saxophones can play the brass parts if need be.
FEES
Fees will be in a state of flux over the next few years as I iron out the format of this program. For Summer 2002, the fee is $75.00 per student. Students may participate in more than one group for the single fee.
SCHEDULING
Because these groups won't fit into my studio, they have to meet at one of the high schools where I teach in-house. These schools generally close by 3:30 or 4:00pm in the summer, so groups must meet in the daytime.

Groups are also scheduled in such a way that outside students will not be loitering around the high school outside of practice time.
MORE INFO
Home Back to Private Lessons Back to Summer Lesson Schedule Email Me