Consumer Info On:
Instrument Stands
SAXOPHONE STANDS
Saxophone stands vary widely from tubular metal models for $25 up to Oleg's new folding alto sax stand for close to $70. Some stands are specifically for alto or tenor, and some stands are adjustable between alto and tenor. Some stands have provisions for clarinet, flute and soprano sax pegs, and some are stricly for the sax. Double stands are made that will hold and alto and a tenor simultaneously.
The very best stands are made by Koenig & Meyer (K&M) and are outstanding. But, they can be pricey and are probably overkill for most students.
Hamilton stands have been around for years. Their chief advantage is that they can fold up without and parts being disassembled. Instrument pegs can be removed for an even more compact package. Their cost is reasonable and they are fairly sturdy. Pros include the fact that the entire stand with a sax, clarinet and flute can be lifted and manipulated easily with one hand. (a handy feature if your band plays frat parties) Cons include the fact that a little corrosion can really mess up the folding capability, and the sax holder can be a little wobbly. Still, this stand has much to offer--particularly for the doubler who needs something that folds compact and carries as one piece.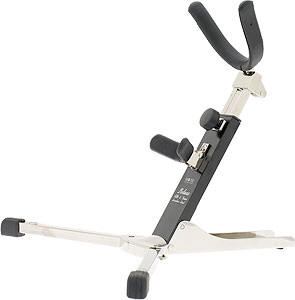 Protec's MS-562 (at left) is a full size sax stand which is adjustable to fit either alto or tenor, and can be folded down into a very small size. The legs can accommodate up to two pegs for flute, clarinet, or soprano sax, and are rigid enough that the stand and instruments can be picked up and moved as a unit.
It is extremerly compact when folded down. I carry mine in a small insulated lunch bag, along with a flute stand. At around $70, it's a bit much for a student, but is an excellent value for an active player who frequently uses a stand and has a lot to carry.
Protec's MS-512 appears to be the same item as the Chinese stands mentioned below.
There is a group of stands on the market, all or which appear to be of identical Chinese manufacture, and are cheap, sturdy and stable. Brand names include Belmonte, LP, Lazer, LA Sax and Stagecraft. They're light, hold the horn securely, and can sell for as little as $25. I recommend this model for most students. They're made of tubular metal with a plastic hub. For the most part, they are black in color. This keeps them pretty low key on stage. Instruments stand close to the vertical, which minimizes the footprint. Only one con on these: I do not recommend using these with clarinet, flute or soprano sax pegs. The legs on these stands don't lock in place and they can collapse if lifted suddenly--spilling your clarinet, flute or soprano onto the floor. I use these stands myself, but my clarinet, flute and soprano sax have a separate K&M stand.
CLARINET, FLUTE & SOPRANO SAX STANDS
The best stands for an individual clarinet, flute, oboe or soprano sax are pegs which are attached to a weighted base. The next best stands are pegs which have their legs attached and stored inside. Koenig & Meyer is the most reputable brand, but imitations of their design are also good. Spyder stands are also excellent. For clarinets, the Pack-A-Stand is an outstanding value. It costs $15 or less, all parts stay attached, and it folds up small enough to store inside the instrument's bell.
Another family of instrument pegs come in two flat pieces which slide together at right angles to form the peg. The brand is B&G. Pros for this include the fact that the two flat parts can store in a book or some instrument cases. Cons include the fact that one of the small parts could easily get lost, and that they are grossly overpriced at over $20.
Many orchestral players use pegs attached to a heavy, weighted base. I don't recommend these for students because they are hard to carry around, and grossly overpriced.
Back to Woodwind Accessories Back to Consumer Pages Home Email Me