Clarinets are Cool!
Klezmer
Klezmer is Jewish music, primarly of eastern european origin. It came to America along with the influx of Russian, Polish and other eastern european Jews around the turn of the 20th century. It is extremely lively, and there are no holds barred. Without a doubt, it offers some of the wildest clarinet playing that you'll ever hear.
But more importantly, Klezmer is a music in which the clarinet has a prime role and in which the biggest movers and shakers have been clarinet players. The American style of Klezmer was greatly influenced by Ukranian clarinetist David Tarras, who arrived here sometime around 1920, and worked steadily in and around New York City. The late 1970's saw a huge Klezmer revival which is still in progress. It was led by clarinetist Giora Feidman of the Israeli Philharmonic Orchestra.
At the turn of the 21st century, Klezmer is more popular and alive than ever. There are a number of very popular groups who are each taking the music in their own direction.
INFLUENCES YOU MIGHT NOT BE AWARE OF
Jewish ethnic music is not one of the more widely talked-about influences in jazz, but consider the number of Jewish musicians who were movers and shakers in the Big Band Era. Benny Goodman, Artie Shaw and Woody Herman make for quite a faction on clarinet alone. Benny Goodman, in fact, got his first break imitating Jewish clarinetist/comedian Ted Lewis in a talent show in Chicago. David Tarras was crossing over into swing music, and the Goodman band crossed over at times into Jewish music. Goodman hits like "And the Angels Sing" and "Bei Mir Bist Du Schoen" were actually based on Yiddish pieces.
KLEZMER RESOURCES
KLEZMER CLARINETISTS
KLEZMER INSTRUCTION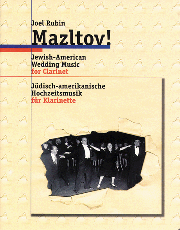 Mazltov!: Jewish-American Wedding Music for Clarinet by Joel Rubin - This excellent book, published in both English and German, offers the most thorough technical data on Klezmer performance that I have yet seen. An excellent partner to the book is Joel Rubin's CD Zeydes un Eyniklekh (Grandfathers and Grandsons) recorded with New York's Epstein Brothers Orchestra. The music is drawn form the repertoire of American Klezmer legend David Tarras. The book is published by Schott (ED 8695) and the CD is on the Wergo label (SM 1610-2). They are available as a set from Tara Publications.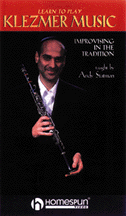 Andy Statman: Learn to Play Klezmer Music - I don't know much about Andy Statman other than that he is a fine player of the clarinet and the mandolin. The video is marketed by Tara Publications (#KZ-AST-90V) and is on my wish list for Santa Claus. Am I goyim or what?