Consumer Pages
Music Videos & Movies
Picks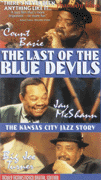 The Last of the Blue Devils (*****) - This marvelous movie has no script. It is a reunion of the Musicians Union local in Kansas City, Missouri, where so many of the best swing-era musicians came from. Lots of foot stomping in-house music provided by Big Joe Turner and Jay McShann, plus live concert footage of the Count Basie Orchestra. Highlights include a knockout performance of Night Train by its composer, tenor sax legend Jimmy Forrest, with the Basie Band. An all-star jam session with Eddie Durham, Paul Quinchette, Charles McPherson and Budd Johnson is complimented by old TV footage of Lester Young, Charlie Parker and Joe Turner. Plus, lots of candid storytelling from Buster Smith, Eddie Durham, Count Basie, Jessie Price, Jay McShann, Richard Smith and other Kansas City legends. This movie is a nonstop rollercoaster ride of jam sessions, stories, and the shared good times of some of the world's greatest musicians. Let's hope this one finds its way to DVD!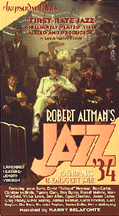 Robert Altman's Jazz '34 (*****) - I would be hard pressed to think of a worse movie than Robert Altman's Kansas City. It's a truly ugly story filled with cruel, desperate characters, vulgar, racist language, and a fairly lame attempt to include Charlie Parker in it all. I'm sure that it was Hollywood's great disaster of 1997. But from the wreckage of this film rises a truly unique music score. Robert Altman, a Kansas City native, wanted to set this film against a backdrop of the legendary jazz that was being produced there in the days of the Pendergast Machine. To do this, he assembled an all-star band of modern jazz greats who dressed in period clothes, played period songs, and blew the hottest possible solos--no matter how modern the sound. The result is startling and addictive. Altman managed to recreate the feel of these legendary jam sessions, and had the foresight to record the results so that they would stand on their own. The picture is a composite one. The band is obviously the Basie band, but is set in the Hey Hay Club, rather then the Reno Club. Kevin Mahogany belts out Jimmy Rushing tunes while tending bar like Joe Turner. There's also an effort to recall a famous jam session at the Cherry Blossom where Lester Young, Ben Webster, Herschel Evans and Coleman Hawkins all locked horns, leaving Lester Young the victor. (These are portrayed by Joshua Redman, James Carter, David Murray and Craig Handy respectively.) The bottom line is that this is as good a recreation of Kansas City in the 1930's that you'll ever see or hear. The Kansas City soundtrack was such a success that the group toured several times as the Kansas City All-Stars. And, of course, this video made it into print.
Born to Swing (***) - I have yet to see a bad movie about Count Basie and his bands. This one has some great old movie sequences, and a terrific recording session with alumni Buddy Tate, Earle Warren, Joe Newman, Dickie Wells, Snub Moseley and Jo Jones. Taking a more unusual approach, the movie shifts back and forth between classic Basie footage, the reunion jam session with the featured players, and a look at the lifes that these Basie alumni went on to lead after the old big band broke up around 1950. This movie is less of a celebration than a documentary. It's pretty heart-rending, for example, to see trombonist Dickie Wells working as a courier on Wall Street and living in a tiny apartment. Even so, it's fascinating look at these musicians and the world that they live in.

Jazz Scene USA: Cannonball Adderley Sextet & Teddy Edwards Sextet (*****) - This is a triple dose for any sax player. Cannonball is in fine form with his classic sextet including Yusef Lateef on tenor sax, flute and oboe. Filmed in 1962 as an episode of a short-lived show hosted by singer Oscar Brown, Jr., this show has sound quality far better than most talk shows and the camera work is pretty thoughtful, too. After 30 minutes of Cannonball's greatest hits, you get another episode featuring the huge tenor sound of Teddy Edwards. Too few people know about this fabulous player who cut his teeth with the likes of Howard McGhee and Gerald Wilson. Also available on DVD..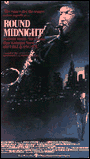 Round Midnight (****) - This is not a jazz video, but is a fine dramatic movie. Set in Paris in the 1950's it stars tenor sax legend Dexter Gordon as a fictional character named Dale Turner, a master saxophonist who is down on his luck and near the end of his life. He spends his declining years, reliving past glories in a small french nightclub until a chance meeting with a devoted french fan brings him spiritual renewal and one last burst of creativity. Gordon's character is an undisguised ghost of Lester Young, a man who Gordon knew well. The story is based more on that of pianist Bud Powell. Here in Richmond, VA we should recognize Turner's landlady "Buttercup" as the late Buttercup Powell, Bud Powell's widow. Some fine playing is heard by Gordon and a fabulous collection of guest stars including Wayne Shorter, Herbie Hancock and Bobby Hutcherson.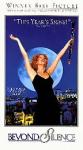 Beyond Silence (****) - Again, not a music video, but a highly acclaimed German drama. Dialogue is in German with English subtitles. The story revolves around a young girl whose parents are deaf. An aunt gives her a clarinet which she instantly takes to, but for which her parents can't understand her passion. There is some terrific playing in this movie, including a brief appearance by Klezmer clarinet legend Giora Feidman. Sadly, the soundtrack album is out of print. We can only hope that the movie will someday find its way to DVD. This movie is available in many of the larger video stores, and extra copies were being sold off during the summer of 2000. If one comes your way, it's definitely worth buying.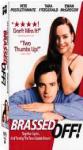 Brassed Off (*****) - For many of you, the appearance of Star Wars' Ewan MacGregor will be enough to check this one out. The movie is set in a British coal town and revolves around the colliery's brass band and the lives of its members. As management examines shutting down the mine, band members brace for coming hard times and go for one last blaze of glory with their outstanding brass band. Though written more as a comedy, the dramatic quality is on par with Beyond Silence.
The music played in this movie is on par with the quality of the movie itself, and will bring a tear to the eye of anyone who has played those British band classics. Too band there aren't any woodwind players...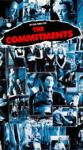 The Commitments (*****) - A hilarious movie about forming a soul band in Dublin, Ireland. If that seems odd our protaganist gladly explains, "the Irish are the blacks of Europe, and Dubliners are the blacks of Ireland!" So what we get is a comic, but not terribly unrealistic look at forming a band. (much better, I might add, than that TV show about forming an all-boy glam band last year) This one has all the elements, the tempermental if not psycho lead singer, the seasoned pro with just a little too much wisdom to dispense, the frustrated jazz saxophonist, and--of course-- the bandleader who doesn't actually sing or play anything. This flick is a fave among musicians, and the band has actually toured the US.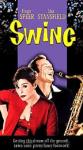 Swing (****) - Another fine British export set in Liverpool, and featuring singer Lisa Stansfield. Our protagonist is released from prison having been taught to play saxophone by his cellmate...Clarence Clemons of the E-Street Band. As he returns home to Liverpool, he finds that the job market is very tight, and that his girlfriend has married the policeman who sent him to prison. The obvious solution to this is to form a swing band, and on it goes from there. With his former girlfriend singing, a skinhead drumming, and members of the Orange Order providing a horn section, the band is a nonstop rollercoaster ride. Clarence Clemons provides an interesting Obewon Kenobe sort of character dispensing some very valid musical wisdom all through the movie. Like Brassed Off, this is a terrific one to watch even with non-musicians. A totally winning formula, not unlike that of The Commitments.
Bird (***) - Jazz fans had to wait almost forty years to see Charlie Parker's story hit the movies. Forrest Whitaker plays the title role in this moving and disturbing movie by Clint Eastwood. As with Round Midnight, the movie catches its protagonist in his declining years, wrestling with his demons and struggling to hold on to his creativity. This is much less of a musical movie than Round Midnight, although Parker's original solos were used in the soundtrack, recorded along to a modern rhythm section. It's also more of an insider's movie. Eastwood uses a number of symbols that will have instant meaning to those who already know Bird's story, but that will only be slowly and partially revealed to the rest of the audience. On the upside, this movie provides a lot of emotional release for jazz fans. On the downside, it may seem obtuse to the general audience. One personal bone for me to pick: Buster Smith is portrayed as a composite character who is Bird's arch-enemy in this movie and I don't understand why. In reality, Smith was Count Basie's lead alto, riff leader and straw boss in Kansas City. He actually took the young Bird under his wing out there, hiring him for his bands, teaching him how to play, and even letting Bird stay at his apartment when he first went to New York. See the real Buster Smith in Last of the Blue Devils.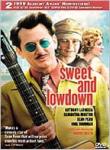 Sweet and Lowdown (***) - An interesting Woody Allen effort chronicling the life of a swing guitar player in the Django Reinhart tradition. Sean Penn provides a fine performance as the affable, self-centered artiste who is dedicated to his music and absolutely nothing else. The movie is clever and funny, but possibly not for the consumption of adolescents. I would, however, keep an eye out for the soundtrack. The playing is magnificent with Howard Alden on guitar, and Ken Peplowski on clarinet.
Pans

Wild Man Blues (**) - This documentary film follows filmmaker Woody Allen as he tours Europe playing clarinet with his traditional jazz band. It's less a music video than a portrait of Allen and the neurotic personality that made him so popular as an actor and writer. Allen is very humble (and correctly so) about his playing abilities, and this adds some amusing facets to his eccentric character. On the up side: I've always admired the fact that despite his busy and brilliant career, Woody is serious about his playing (in the Sidney Bechet style) and that after 45 years on the horn, he still practices daily and performs weekly. On the down side, the playing is a bit pedestrian, and Woody's controversial relationship with stepdaughter Soon-Yi Previn is particularly discomforting against the band's heavy repertoire of old hymns. For me, the highlight of the film is Woody's visit to the Buffet Crampon factory in France where he seeks to get his clarinet drilled out to behave like a Selmer. Factory staffers are visibly stressed as Woody noodles around on an old metal clarinet that he wants to buy, but they don't want to sell. This movie is living proof that the off-screen Woody Allen is quite like the on-screen Woody Allen. Try to rent before you consider buying.