Blackbirds of Broadway Tour
Living in Richmond, VA
Please note that I did not live in theatre housing in Richmond. I worked the show as a local job. In fact, I live much closer to the Empire Theatre than any of the cast housing.
Male members of the company lived in the Fan District near the Boulevard. This is several miles from the Theatre, so they had to cooperate in the use of a Theatre IV van to get back and forth. This was not the greatest neighborhood, and at least one gentleman had to borrow an air conditioner to make the Richmond summer bearable. Even so, they were near to grocery stores, night spots, etc.
Male members of the Blackbirds cast roomed here while in Richmond. Fairly respectable looking Fan row houses.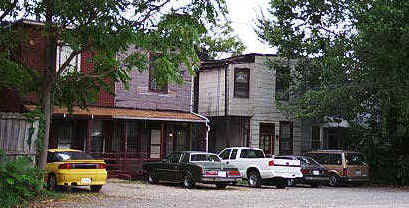 The same row houses, looking more realistic from the rear.
Female cast members lived in Bon Air just off of the Hugenot Bridge. My understanding is that they also had the shared use of a single van. The house seemed nice, and was air conditioned--although the ladies minimized their use of it in order to protect their singing voices. I only saw the place once, when Katura Walker cooked a late supper for the entire company.
The four ladies were housed here. It's more spacious than it looks.
Back to Living On the Road Back to Blackbirds' Tour Back to Student/Teacher News Home Email me