Musician Profiles
Benny Goodman
"The King of Swing"
1909-1986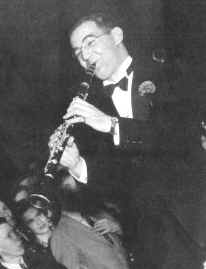 Undoubtedly, one of the greatest clarinetists--and one of the most popular jazz musicians--to walk the earth was Benjamin David Goodman. Born in the slums of Chicago to immigrant Russian Jews, Goodman was a member of a very large and very poor family. He got his start on clarinet by joining the band at the equivalent of a local boys club along with his brothers Harry and Irving, who would later work as sidemen in his band. His talent proved to be profound and Franz Schoep volunteered to teach him privately.
Benny's first performing break was his imitation of Ted Lewis in a Chicago vaudeville show. Various playing opporunities came around and he found himself working in a number of fine bands including one with a trumpet player named Bix Beiderbeke. His big break came when drummer Ben Pollack of the New Orleans Rhythm Kings put together a crack band to go on the road, and the teenage Benny went with them to California. This was the band that would be known in the 1930's as Bob Crosby and the Bobcats. Other members of this group included future big band leaders Tommy Dorsey and Glenn Miller.
In New York City, Benny was an in-demand studio musician and earned much of his living playing on radio shows and in stage show pit orchestras. He worked with a number of groups including those of Jack Teagarden, Joe Venuti, Red Nichols and his Five Pennies, Adrian Rollini and Irving Mills. While still in his twenties, a book of his 'original jazz riffs' was transcribed and published. Goodman made a number of exploratory efforts at forming his own band, but the groups were very conservative and commerical. Goodman's poverty stricken youth and his ongoing obligations to his family always kept money a high priority.
Benny recorded with Billie Holiday in 1933 for producer John Hammond, and became one of Hammond's many projects. He had an offer to take a clarinet/sax seat with the Paul Whiteman Orchestra, but took instead an offer to form a band for a radio show called "Let's Dance." The show rotated three bands, one latin (Xavier Cugat), one 'sweet' and one 'hot.' Benny's was the 'hot' band and it was fueled by arrangements from Fletcher Henderson, whose own band had been very successful.
Popularity did not come quickly to the group, and they went on tour to make ends meet. After all, in an era where Paul Whiteman and Guy Lombardo were the big draws, a 'hot' band was more radical to most audiences than Metallica is today. (Most white audiences were not aware of names like Fletcher Henderson and Chick Webb) The tour was not at all successful, and they were about to give it up when they played the Palomar Ballroom in Los Angeles. They were surprised to find crowds of unmanageable size, who appreciated their hardest swinging music. Why? Because Benny's band played its best stuff very late on the Let's Dance show, after many folks had gone to bed for the night. But California radio audiences were still wide awake when these broadcasts made it out there. The band was a startling success and it paved the way for the popularity of 'hot' music among white audiences.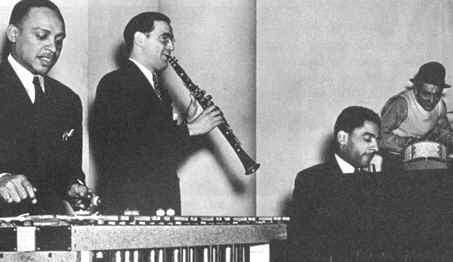 In those days, the black bands were confined to special record labels and most stores catering to whites did not handle them. Mixed groups were uncommon in the classier public venues, and Jim Crow was alive and well. But...Benny had been playing with black musicians in a number of circumstances, including the sessions with Billie Holiday. John Hammond pushed Benny to hire Holiday's bandleader Teddy Wilson on piano for some small group sessions. This was a bit risky, but Benny wanted the best players and was in the best position of anyone to impose a racially mixed group on clubowners. As it turned out, none of the predicted outrage occured and Benny continued running a mixed group.
The late thirties were very kind to the Goodman band and it made superstars not only of Benny, but of sidemen like Harry James and Gene Krupa. The band was constantly on the road, appeared in a number of movies, and gave the first jazz concert at Carnegie Hall.
The Carnegie Hall concert was enormously successful, but that wasn't all. In the audience that night was Albert Marx, the husband of Benny's former singer Helen Ward. Marx had microphones rigged and the signal sent to a nearby sound studio where the performance was recorded on acetate disks. He presented the second set to Benny as a gift. It sat forgotten in the attic until brought out in the 1950's. The contents were extraordinary. Benny's band in the manic excitement of a live performance with fans screaming and dancing in the aisles of Carnegie Hall. Guest stars like Count Basie, Willie Smith and Lester Young playing in fine form. This was the first 'live' album, and would be the best selling of all jazz albums for years to come.
The 1940's brought more great things to the Goodman band, but there was now stiff competition from bands led by Artie Shaw and Glenn Miller. Benny's group got a reprieve when a medical condition kept him out of the WWII draft, but that condition was also debilitating and forced him into retirement in the late 1940's. Perhaps his greatest legacy of the 1940's were the small group sides with guitarist Charlie Christian.
From then on, Benny's career involved mostly small groups, and temporary bands. There was a temporary flirtation with Bebop, and tours and TV appearances. There was a terrific small big band (four horns other than Benny) in 1959-1960, a tour of Russia in 1962, and some fine sides recorded in Europe in 1971 and 1973. There was a Carnegie Hall reunion concert in 1978, and other sporadic projects at home.
Another group project of Goodman's was to expand his classical music training. Benny had studied in Chicago with one of the finest teachers in the world at the time, and this was evidenced in his formidable technical skills. As more and more leisure time came, he studied with Reginald Kell, performed some repertoire standards, and commissioned some new works for the instrument from the likes of Aaron Copeland and Bela Bartok. There is nothing special or groundbreaking about his classical recordings, but they are certainly a testament to his fine command of the instrument.
Benny Goodman was known for his obession with the instrument, which made him a great player, but a detached human being. Fittingly, he died in his practice room, clarinet out, with the Brahms Sonatas (Op. 120) on his music stand.
WHAT WAS SO GREAT ABOUT BENNY?
Benny was part of a new generation of virtuoso jazz players. His tone and technique were clean and strong, and his playing was confident and exciting. He was a man of simple musical tastes and was able to improvise clear, understandable licks that the audience could follow. His music was not the most innovative or the most daring of its era, but it was very accessible to audiences and it was anything but bland or boring. His solos are great material for learning jazz because they are easy to follow and they sound great. Rare is the musician this fiery who the audiences can really relate to.
Another factor would be the diversity of influences. While Benny learned much of his jazz playing from the black musicians in Chicago, he also had a strong classical background provided by Franz Schoep and a strong Jewish influence as well. You can hear it all in his playing. For better or worse, that clarinet was the first priority in his life and it showed. A bad Goodman recording is hard to find.
WHAT RECORDINGS SHOULD I CHECK OUT?
Well, anything with the old RCA/Bluebird hits is a good start. Solos on Let's Dance, Stompin' At the Savoy, King Porter Stomp, Sugarfoot Stomp, Don't Be That Way and Sing, Sing, Sing are all certified classics. Check out his Jewish side on And the Angels Sing, and Bei Mir Bist Du Schoen. The Benny Goodman Trio and Benny Goodman Quartet recordings are outstanding, and terrific solos for young players to transcribe and learn.
Benny's 1959-1960 group with Red Norvo is a personal favorite. His lengthy, warp-speed solo on After You've Gone is breathtaking. Benny's early years are also worth checking out. He was a hot, uninhibited player in those Ben Pollack days, and the recordings are a hoot to listen to for a number of reasons. This is particularly true of his sessions in the company of trombonist/singer Jack Teagarden. A terrific CD is "B.G. and Big Tea in NYC"
There were also some very good recordings made in the 1970's for the British Decca Label. A 1971 tour includes some rehashing of the big band charts, and a chance to hear those classic Fletcher Henderson arrangements in hi-fi. The best playing, though, is a sextet concert in Copenhagen in 1973. Included are guitarist Bucky Pizzarelli and saxophonist Zoot Sims. These recordings are now the property of Verve Records and are found on Benny Goodman volumes of their "Compact Jazz" and "Jazz Masters" series. When I was in high school, I spent hours in my parents' basement playing along to that Copenhagen concert.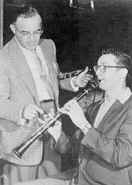 HOW ABOUT MOVIES/VIDEOS?
There is a pretty good video of Benny playing at the Tivoli Gardens in Copenhagen in the 1980's (KULTUR 1351). There is also an excellent documentary, Benny Goodman: Adventures In the Kingdom of Swing on Columbia Music Video (19V 49186). In its day, the Goodman band performed in a number of movies including The Gang's All Here, The Big Broadcast of 1937, and That Powers Girl. If you'd like to see a movie so ridiculous that even Benny laughed at it, rent The Benny Goodman Story, starring Steve Allen and Donna Reed. In the photo at the left, you can see Benny giving Steve some pointers on the horn. Benny did the movie's soundtrack, by the way.
BOOKS?
Newer books include Benny Goodman and the Swing Era by George Lincoln Collier, and Swing Swing Swing. Long out of print is Benny Goodman: A Comprehensive Biodiscography, and a mostly-picture book called The King of Swing. There is also a method book for Clarinet published under his name.
WEB LINKS?
If you find any, please email me and I'll include them here.
Back to Musician Profiles Home Email Me