Quick & Dirty Technical Exercises for Your Horn

Note: This page has activities that require the use of Adobe Acrobat Reader. Please click on the icon to download this free plug-in for your broswer.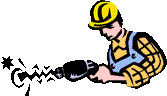 (This Page Under Construction)
Note: All printable items on this page are currently in .pdf format to be read by Adobe Acrobat. I hope in the near future to offer some of the same files as playable, transposable Sibelius documents, which you can read with Scorch. More later, I hope...
GENERAL
CLARINET
SAXOPHONE
FLUTE